Pro Wrestling is weird; It's filled with people from all walks of life, with varying strange personalities. I'm not afraid to admit that I'm a huge fan of it – From the grandiose belts (sorry, titles), to the incredibly exaggerated characters, wrestling has kept me hugely entertained for many years now. Today is a big day for these grapplers – Today is the biggest Pay Per View on the wrestling calendar. Today is WrestleMania 34!
In the spirit of Pro Wrestling, I thought I'd give you all a small break from our usual geek articles to bring you up to date with what's happening going into WrestleMania, because hey – the amount of pop culture references in WWE alone these days is simply staggering… So that makes it geeky enough, right?
Here we go!
Warning: Before we go into this, it's fair to point out that this is subject to change. We may actually see John Cena get a match with The Undertaker, we may also see Elias involved in a match somehow. Because Elias is amazing, shush.
---
WWE Cruiserweight Championship
After the Certified G and Bonafide Stud had to make an early departure from the company, the Cruiserweight title was vacated. Hiring a man with a heavy Essex accent to actually make 205 Live work, former TNA-star-turned-WWE-saviour, Drake Maverick, the cruiserweight division underwent a radical transformation with the introduction of their new General Manager.
One man in the title match, Cedric Alexander, has gotten to be the challenger to the title several times in the past, only to be cut off at the last second for reasons that aren't his fault. Also in the running is his opponent, a highly skilled athletic wrestler called Mustafa Ali. The two are sure to put on a technical masterpiece – But who will be the next Cruiserweight champion?
Women's WrestleMania Battle Royal
Originally, the title of this match was The Fabulous Moolah Memorial Battle Royal, named after a hugely controversial female wrestler by the name of The Fabulous Moolah. Often regarded as one of wrestling's most despicable figures. It took a lot of fan signatures and direct action from… Snickers… Yes, the chocolate bar who are acting as a sponsor for WrestleMania – But the name was changed to… Something incredibly generic.
So okay, these women are going to have a match to determine who gets to win the inaugural Women's WrestleMania Battle Royal, an impressive feat, no doubt. This match will feature a crazy number of women, all of whom want to throw one another over the top rope and onto the floor below. It'll be a mess of a match, but we'll all love it anyway, so long as they don't let Dana Brooke eliminate Kairi Sane again.
Jay, if you're reading this… sorry not sorry!
André the Giant Memorial Battle Royale (ARMBAR)
The André the Giant Memorial Battle Royale is basically exactly the same as the previous match, but for men. I'm going to say nothing more here, as winning the ARMBAR has done nothing of consequence thus far.
Moving on to the main show now!
WWE Intercontinental Championship
The best talker in all of the WWE has recently become a father, n'aww. However, that guy is one of those Hollywood jerks that you want to hate. But the fans love him too much, because of how much of a jerk he is. He decided that he doesn't need a match at WrestleMania – But the general manager, Kurt Angle, thinks otherwise, as he books current champion The Miz against two of his rivals, Finn Balor, who may sometimes turn into a demon – And Monday Night Rollins himself.
Seth Rollins is one of the most incredible wrestlers to ever perform in the WWE, a focused, crossfit loving guy who beat up The Authority once. Finn Balor occasionally puts on paint and says he's turned into a demon. The Miz wants to be the greatest Intercontinental Champion of all time, but he's got a few days left after WrestleMania before he can be considered the longest combined reign Intercontinental Champion.
… My money's on the demon cosplayer.
WWE United States Champion
The glorious Bobby Roode was the champion, who then dropped it to the viper, Randy Orton at WWE Backlash. Since then, the viper attacked some people and got on the nerves of the modern day Majaraja, Jinder Mahal, the former WWE World Heavyweight Champion. This then annoyed the Rusev Day founder, Rusev, who got himself added into the match, mostly because of the fact he's the most over man in the entire roster, bar none.
… And Rusev is supposed to be a bad guy?
WWE RAW Tag Team Titles
Two unstoppable men from Europe, Sheamus and Cesaro, formed an unlikely duo after a series of entertaining matches. They have beaten all comers, because they don't just set the bar, they are… The Bar. No really, that's their tag team name. Sounds like these Europeans like a good drink. However, they have genuinely beaten everyone – So they didn't have a WrestleMania opponent.
The Monster Among Men, Braun Strowman, has decided that he's literally got nothing better to do, so in a massive tag team battle royal, the monster beat every tag team. Braun Strowman is a better tag team than the tag team division – But who will he choose to be his tag team partner to try and earn his first title in the company?
As of Monday, we still do not know who his tag team partner will be… Unless Monday is any indication, when Braun Strowman brings along his "tag team partner, Brains Strowman".
Uh huh…Because Braun in a white shirt and some glasses is totally a different person.
WWE SmackDown Tag Team Titles
The Usos have had the SmackDown Tag Team Titles on lockdown for ages – They've dominated the Tag Team division, putting on serious contenders for Match of the Year. Their matches with The New Day were tremendous – The New Day being a trio of very colourful, unicorn loving, trumpet blowing, "Booty-O's" eating men. The two teams knew how to ramp up the aggression when needed.
Meet The Bludgeon Brothers, who may or may not be LARPers. These two menacing mastodons of men will mightily mash you with their mallets, because you know, that's how pro wrestling works. Turns out they throw things good, hit finishers good, generally are impressive, but have one of the silliest tag team names ever.
Now, it's the reigning champions The Usos vs their Booty-O devouring rivals, The New Day, vs those Mallet Men – Bludgeon Brothers.
Who will walk out the champion?
SmackDown Women's Championship
A dream match has been set up by the WWE, when it brings Japanese superstar, Asuka (Formerly known as Kana), to face off against Charlotte Flair, the current Women's Champion. Asuka has been on a tear ever since she joined the WWE – She's never been pinned or submitted since joining the company back in October 2015. This means she's undefeated by pinfall or submission for 908 days.
But, Charlotte is no slouch when it comes to Pay-Per Views – She too had a streak of her own, of 16 successful pay-per view wins between 2015 and 2016 – A feat that many thought was cut off a bit too soon. No matter, this will be an epic test for both Charlotte and Asuka.
RAW Women's Championship
Former bad lady, Nia Jax, has finally snapped having been insulted by Alexa Bliss for the last time behind her back. Nia is ready to take out Little Miss Bliss in what should be a great win for Nia Jax. Believe it.
However, it could conceivably go to the first female wrestler in WWE to be both the RAW and SmackDown champions.
Not much more to say here, it's just going to be fun watching Alexa get her behind kicked for the championship.
Daniel Bryan & Shane McMahon vs Kevin Owens & Sami Zayn
Kevin Owens really dislikes the McMahon's for some reason, going so far as to headbutting Vince McMahon a while back, busting the older McMahon open. In Hell in a Cell, Shane McMahon went against Kevin Owens in a Hell in a Cell match, only for Kevin to be saved by his "guardian angel" and former rival, Sami Zayn. Sami grew tired of being ignored, so he made a pact with the devil of Owens himself.
Daniel Bryan, one of Wrestling's most favourite goats, has been told as of about three weeks ago that he can compete again. Shoehorned into the match, Daniel has been a supporter of Kevin and Sami until recently; so we get an in-ring return for the most incredibly headbutt-man in WWE history.
The Authority vs Kurt Angle & Ronda Rousey
The Olympic gold medalist who won his medal with a broken freakin' neck gets to team up with RAWs latest acquisition, Ronda Rousey. The opponent Rousey chose for WrestleMania wasn't a champion (Alexa Bliss), nor was it any big name wrestler. No, she chose to take down The Authority, having seen them try to betray the trust she had for them – Apparently she's watched wrestling since she was a kid and thought The Authority were good guys. Huh.
Anyway, so Ronda gets to face off with The Authority, after she put Triple H through a table and then got put through a table by Stephanie McMahon. Gosh, this is going to be a bad match, but… I'm excited for it! Seriously! Bad because it's not going to be a technical masterpiece, but I bet this is going to be one of the more fun matches of the night.
WWE World Heavyweight Championship
Shinsuke Nakamura beat 29 other superstars at the Royal Rumble back in January, earning the right to face the current World Heavyweight Champion, AJ Styles, in what should be a dream match.
Okay, I actually have nothing funny to say about this one. This is going to be a hell of an incredible match, so make sure you get your drinks in, get some snacks and seriously, let's hope this is the match it should be. We're hopeful this should be special.
WWE Universal Championship
"Bork, bork, I am big doggo". – Roman Reigns, the man with undeniably too good booking, but we've just come around to enjoying the fact he's always around.
"Raah. I am Bork Lasor." – Brock Lesnar, the man whose contract is so good, he can choose not to show up for work.
Bork Lasor does not like when you insult him. Big doggo gets hurt by Bork Lasor. Grr. See you at WrestleMania, big doggo.
And that's one of our main events, ladies and gents!
---
… and with that, that's the whole of WrestleMania 34 in a nutshell. You can actually watch the show for free if you sign up to the WWE Network today and keep it for a month, should you choose to. Else, just, Google the results, cause I won't be writing them here.
Also, a man called Elias is the best thing ever, so he'll be around, I'm sure.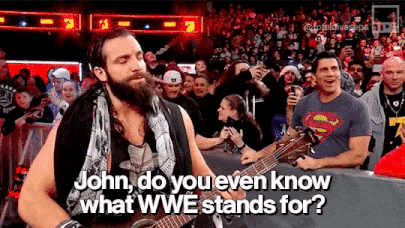 Right, see ya, I'm off to get my John Cena jean shorts on and my snapback baseball cap, pretending I'm still in the 90's.
Predictions
Every year, Jake and I like to throw down our predictions. We usually invite our friends Jay and Kevin along for the ride. I won't put their predictions up, however here are Jake's and my own predictions.
| | | |
| --- | --- | --- |
| Match | Timlah's Predictions | Jake's Predictions |
| Andre the Giant Memorial Battle Royal | Matt Hardy | Matt Hardy |
| Women's Wrestlemania Battle Royal | Becky Lynch | Becky Lynch |
| Cruiserweight Championship | Cedric Alexander | Mustafa Ali |
| Intercontinental Championship | Finn Balor (New Champion) | Seth Rollins (New Champion) |
| United States Championship | Rusev (New Champion) | Rusev (New Champion) |
| RAW Tag Team Championship | Braun & Partner (New Champions) | Braun & Partner (New Champions) |
| SmackDown Tag Team Championship | Bludgeon Brothers (New Champions) | The Usos (Retain) |
| Shane & Daniel vs Kevin & Sami | Kevin & Sami | Kevin & Sami |
| The Authority vs Kurt Angle & Ronda Rousey | Kurt Angle & Ronda Rousey | Kurt Angle & Ronda Rousey |
| SmackDown Women's Championship | Asuka (New Champion) | Charlotte (Retain) |
| RAW Women's Championship | Nia Jax (New Champion) | Nia Jax (New Champion) |
| WWE World Heavyweight Championship | AJ Styles (Retain) | AJ Styles (Retain) |
| Universal Championship | Roman Reigns (New Champion) | Roman Reigns (New Champion) |
If you're interested in wrestling, share your predictions with us below, or over on Facebook and Twitter.